The appeal of your home is important. Nobody wants to have the eyesore of the neighborhood, but rather the best house on the block. That's the goal when you hire Uhrig's Painting. Our team of professional painters takes pride in their work and we know you'll be satisfied, too.
We make sure that are residential painters will get your project done in a timely and respectful fashion. Additionally, we ensure you're satisfied with your high quality paint color before we start our work. Our house painters leave a place better than they found it. We love the feeling of seeing a client's face light up after they see their finished paint project!
If you're interested in viewing our previous work, please check out our projects gallery.
We offer free in-person estimates of your project. We also offer a two year limited warranty on our work.
To get started, please select whether you're interested in our interior or exterior painting services.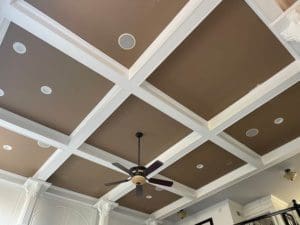 Interior Residential Painting Service
Our interior residential painting services will have your house look amazing from room-to-room. Whether it's your kitchen, bathroom, bedroom, living room, basement or garage, Uhrig's Painting will complete the job. We take pride in the level of attention we put into our work, so much so that we guarantee you'll be 100% satisfied. Aside from our standard painting services, we also offer wallcoverings, staining, and faux finish painting. Let's get started on your project, today!
Interior Painting Services
Exterior Residential Painting Services
Various weather conditions & climates, combined with the natural impact of aging can take a toll on your home's exterior. Our team of professional contractors will help restore the beauty of your property to ensure it's appealing to friends, family and guests. We will get the job done on time, and on budget. Contact us today to get started !
Exterior Painting Services
Our home painting services will have your home looking beautiful, both inside and out. To get started, contact us online today or call us at (610) 373-8814.